Happy Christmas and A Very Happy New Year 2012!!!
First of all, we would like to wish our followers, a very Happy Christmas '2011 and also a very Happy New Year '2012. In our previous post, we listed the top Android Mobiles of the year 2011. Reviewing past is easy. So, this time for a change, we are going to look in to the future, to check, what will 2012 bring into our world. So, sit back, buckle-up and decide what are you going to buy, in 2012.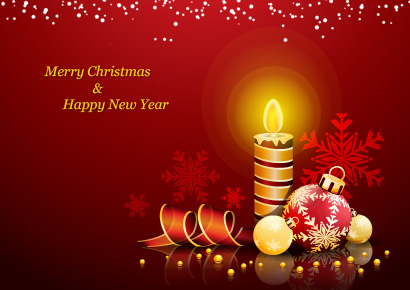 2012: Our Most Expected Products:
1. Samsung Galaxy S III (Phone)
That's an easy one to guess. Isn't it? Galaxy S III's predecessor Galaxy S II, topped our list for the best Android Mobile phones in India.
Why? :
The S III is rumored to be powered by Samsung's own Exynos 4412 1.5 GHz quad-core processor. Graphically too the Galaxy S III should match up with the Mali-T604 GPU and a 4.6-in Super AMOLED Plus screen.
When? : 
Samsung is expected to announce the Galaxy S III at the Mobile World Congress in February.
2. HTC Edge (Phone)
This phone is also rumoured to be the first of the quad-core phones, that will hit the market in 2012. We believe, after many successful launches in 2011, HTC will continue this winning streak into 2012 too.
Why? : Mainly because we'll get to see how Android Ice-cream Sandwich works on a blazing fast 1.5 GHz quad-core processor.
When? : HTC hasn't officially announced the Edge but it's expected to hit markets in Q2 2012.
3. Apple iPhone5 (Phone)
"What's any gadget list, without an Apple product?", So, here is our expected Apple product that will revolutionize 2012.
Why? : When was the last time a new iPhone didn't demand excitement? From rumors of a larger display to its quad-core A6 processor, the iPhone 5 looks like it will definitely keep us interested. Of course, looking at the iPhone 4S's pricing in India, we wouldn't be surprised if Aircel, Airtel and Vodafone decide to give it a six-figure price-tag.
When? : Late 2012. Probably in October-November.
4. Apple iPad3 (Tablet)
"Apple isn't paying us any money, to get their products in our list 🙁 ". Well, having said that, we are still very much happy to include iPad3, again only because of its predecessors reputation, fame and importantly the expectation it creates before its release.
Why? : The iPad 3 is supposed to sport a "major" design overhaul. Also, there's talks of a smaller iPad Mini with a 7.85-in display which should be cheaper than its larger screened sibling.
When? : There are a lot of time-periods being thrown around but considering the March launch of the iPad 2, the iPad 3 will probably see a Feb-March launch.
5. Google Nexus Tablet (Table)
"Apple is already here!!!, Where is Google?", Well, Google makes it into our list, for its promising product, the Nexus Tablet.
Why? : Most present-day Android tablets have been disappointing and Android 3.0 (Honeycomb) hasn't exactly proven itself to be a superior tablet OS. With Google rolling up their sleeves and designing a tablet to work with Android 4.0 (Ice Cream Sandwich), I think it's time to finally expect an Android tablet that will actually prove to be a worthy rival to the iPad.
When? : Schmidt has said that the tablet will be out within six months, so a summer launch is likely.
6. Nikon 1 Mirrorless Cameras (Camera)
Mirrorless or interchangeable lens cameras have shown a lot of promise with companies like Sony, Panasonic and Olympus pushing them in a big way. Nikon launched their 1 series of mirrorless cameras back in October but they've yet to hit India.
Why? : While they have potential, mirrorless cameras haven't really caught on in a big way. Now with a major name like Nikon giving mirrorless cameras attention, you can expect it to be the big trend in 2012 especially for those people who want DSLR-like performance in a compact form-factor. Also, the Nikon 1 series has the smallest mirrorless cameras right now.
When? : Since Nikon has already launched these cameras elsewhere, expect to see an India launch in Q1.
7. Lytro Camera (Camera)
Although it doesn't look like any camera I've seen before, the Lytro camera sure is unique. The Lytro offers no focusing control at the time of shooting but instead lets you focus on any subject in the image after you've shot the picture. It does this with it's 8X optical zoom lens with a constant f/2 aperture.
Why? : Properly focusing on subjects can sometimes be a pain if the light or distance isn't optimal. The Lytro completely removes that issue and makes shooting pictures much faster.
When? : Pre-ordering is open and it should start shipping in Q1 2012.
8. Kinect for Windows (Gaming)
While Microsoft's Kinect motion sensing accessory for Xbox 360 may not have taken the world by storm, it certainly turned into quite the perfect gadget for geek projects. Microsoft has now announced that the Kinecr SDK has been released for Windows which means that Kinect compatible apps will soon be making their way to Windows PCs.
Why? : The Kinect is not only a gaming accessory but can also be made to work with other software. The potential is endless from controlling movies and music on your PC through motion control, to browsing the web without using a keyboard, touchpad or mouse. If there's one thing on this list that could really change the way we use technology in the future, this is it.
When? : The Kinect SDK was launched back in November so we will probably start seeing some apps coming to Windows by mid-2012.
9. Playstation Vita (Gaming)
With the Playstation Vita, Sony wants to erase the disappointment of the Playstation Portable Go (PSP Go) and re-establish themselves in the handheld console market. Sony is going all-out to make the Vita a success with 25 game titles launching on day one including a new Uncharted title and a bunch of EA Sports titles. Pricing for the Vita has been announced as USD 249 (Rs. 13,160 approx.) for the Wi-Fi only model and USD 299 (Rs. 15,800 approx.) for the Wi-Fi + 3G model.
Why? : Because only Sony can offer a viable alternative to Nintendo's glut of Mario titles. Also, the hardware is nothing to smirk at and comprises of a 5-in OLED display, two thumb controllers and a rear touch pad, and graphical power that's said to be very close to that of the PS3.
When? : The Vita has already started hitting stores in Japan, Hong Kong and Taiwan. The launch schedule will continue on to February 2012.
10. Diablo III (Game)
Remember how the entire world was caught up in Starcraft craze back in 2010? Well, double that and you'll still probably not match up to the level of anticipation for Diablo III, the latest Diablo game from Blizzard after a gap of 12 years. While, there was a lot of furor over the fact that Diablo III would require an always-on Internet connection and would feature an in-game auction house, all of that was forgotten once the beta was released in September of this year.
Why? : Only because the Diablo series have always been the pinnacle of the action-RPG genre and have been single-handedly responsible for birthing and taking the genre forward. Also, while controversial, the decision to demand a mandatory online connection may set a trend for how game developers battle piracy on the PC in the future.
When? : While Blizzard follows the policy of it's available when it's available, Diablo III should be out within the Q1 2012.
Do you want to add more to our 2012 list?
If so, you can always comment below, to show us a product that we've missed. We guess, we haven't missed any major elements, and also we've shown you all a glimpse of what can we expect in 2012.