Mac Mini
– The updated Mac mini omits an optical drive, joining the MacBook Air in Apple's efforts to slim down its hardware and push digital software distribution. Users requiring optical disc capabilities for their new Mac minis can either use Remote Disc capabilities to wirelessly use the optical drive of another computer or purchase an external SuperDrive.
– The new Mac mini offers discrete graphics on the high-end model, utilizing the AMD Radeon HD 6630M and offering up to twice the graphics performance of the previous generation. The low-end and server Mac mini models utilize integrated graphics in the form of Intel HD Graphics 3000.
– Pricing for the Mac mini returns to $599 for the low-end model after having been bumped up to $699 with the redesign on the previous generation.
Mac Mini: Performance Graph
Just like early reports on the new MacBook Air released, the new Mac mini is also showing significant improvements in raw performance over its predecessor machines. Mac mini web hosting company Macminicolo.net has obtained both standard and server models of the new line and put them through some preliminary benchmarking using Geekbench.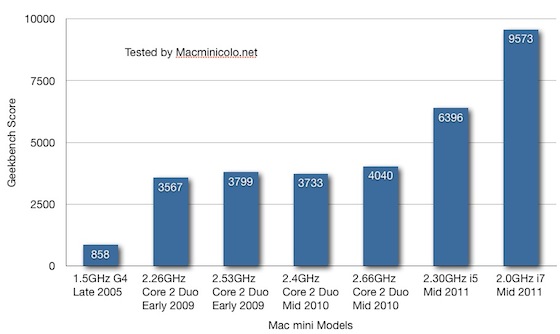 The testing reveals significant performance improvements for the Mac mini, with the entry-level 2.3 GHz Core i5 model showing an over 50% jump in Geekbench scoring over earlier generations and the 2.0 GHz Core i7 server model showing even more impressive results with its Geekbench score coming in at well over double that of its predecessor.
As we noted on yesterday's MacBook Air report, Geekbench focuses on raw processor and memory performance, and real-world performance will also depend on other aspects of a system including graphics capabilities and data storage components.
Mac Mini: Teasers
The report also offers a few unboxing photos and some shots of the initial setup process in which the Mac mini server model offers to migrate from an existing server setup. Also noted is the fact that the server edition includes iLife apps, as the server portion of Lion is simply an add-on for the basic OS X Lion. Under Mac OS X Snow Leopard, iLife apps were not included on server machines.
What you think about Mac Mini ?